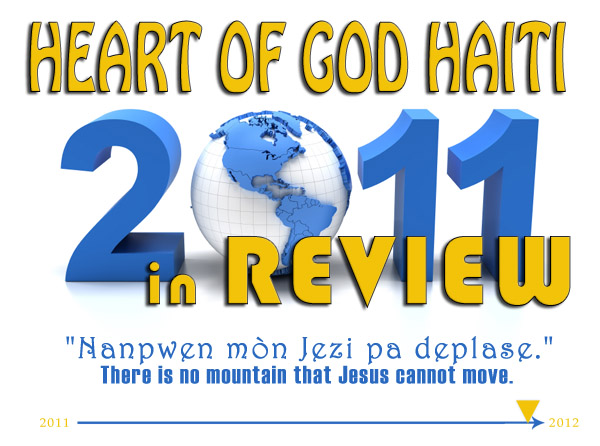 Dear Friends:
It has been another action-packed year in Haiti.   We have had abundant obstacles placed in front of us yet God has continually established that He is in control, bringing us through them all.
January to February 2011 – Gangs controlled the road system in and around our compound due to the civil unrest caused by the pending elections. The sound of gunfire was the daily norm and gang members attempted to breach the compound's walls to steal our provisions. We sent out our team to get supplies and they were ambushed. Pastor Dicksent and two other pastors were beaten during the ambush; we made the decision that moving move out of the PaP area was necessary for the safety of the children.
March to April 2011 – The final round of presidential elections were held and  Michel Martelly was elected president. We sent teams out to the find a new location. With the generous and timely gift from Solutions From Science (SFS) we were able to find a new location in early March 2011 and begin to prepare the location for our people to move in. At the end of April we set up a deception plan to slip through the gang-controlled streets and made our way to our new location in the Kenscoff area of Haiti.  I have to thank the Army for the bit of deception training they gave me-it came in handy.
May to August 2011 – We used the solar generator from Solutions From Science to connect to an inverter that in part, powers our center. This was a key factor for having a power source to filter our water supply. Again, this simple gift continues to pay dividends giving us the ability to live off the grid. We spent time making new connections in our new area. We set up and held regular church services and waited for a new prime minister to be appointed to get our official orphanage certification. Unfortunately, the lawyer our team in Haiti worked with was unable to successfully secure the official documentation for us.
September to October 2011 – We received a gift from a generous donor that allowed us to dig a well and install two water cisterns. This project was a huge success. The well is now producing water which saved us $150 per week to have water brought to our location. Not to mention that it gives us the ability to survive if our supply lines get cut again in the future. Also, we can use the water for farming projects. The gift of clean water is the gift of life as the quality of life is drastically improved and the chances of survival increased in a very difficult environment. We also moved 17 of our older children out of the orphanage and found them jobs; this brings us down to a total of 60 children (48 girls and 12 boys) under our care at Helping For Christ Victory Center.
November to December 2011 -The team in Haiti worked directly with the Ministry of Social Affairs and were given a detailed checklist that must be completed prior to the final certification being granted.   As of this writing most of the items are completed and we are hoping to have everything finalized by mid-January 2012.
Additional Highlights in 2011 – We are sending our first full time American missionary, Anthony "Scott" Ingram, to Haiti with an arrival date of late January 2012. He will be ministering in Haiti for five months; a trip is planned to go with him to get him started on his mission.
Our staff in Haiti has worked for no wages for the past year and has given above and beyond what we could expect. Dr. Johnny, our center doctor, has spent his life savings on supporting the mission in Haiti. Many others have risked their lives to care for the children and to spread the Gospel.
We have a new website (see http://heartofgodhaiti.org ) which covers more of the work we're doing in Haiti. We also now have a Facebook page (http://www.facebook.com/pages/Heart-of-God-Haiti/169157866499469 ) and we're posting updates on Twitter (http://www.twitter.com/heartofgodhaiti ).  Please help us out by sharing this newsletter on your Facebook and/or Twitter pages (the links can be found at the top of this email).
We fully realize that times are tough but folks like you often ask what are our needs are. We have an immediate need to raise funds for our missionary. The cost of travel to get him to Haiti is about $1,000 and we are budgeting about $800 per month for his expenses while in Haiti so our total costs for the missionary will be about $5,000.
We have other costs that we could use help with as well. For example, we are working on a program to make our team more self-sufficient. We can purchase small motorcycles for about $1,500 and we can make about $100 per week using the motor cycles to taxi people up and down the mountain near our center.
One of Mr. Ingram's objectives while he is in Haiti is to find other projects that make our people in Haiti more self-sufficient. I am sure he will report back to us with specific project opportunities.
We, of course, have our recurring monthly costs with which we always need your support. Feeding everyone at least one time per day costs us approximately $2,500 per month. (Note:  When the older children moved out of the orphanage, our monthly budget was reduced significantly from $3,500 to $2,500.)  We also have three people with glaucoma; the medicine costs about $300 per month. The internet costs $110 per month and phone costs about $150 per month. These costs are mandatory as communication is key to this mission's success.
These are just the bare bones costs. Again, we fully realize that times are difficult but even just a small recurring contribution made monthly can make a major difference and have an eternal impact on a child's life.
Thank you again for all of your support over the past year; please don't forget about the mission in your year-end giving. We are going to need your support this year as well.
God bless,
David Young, Executive Director
Heart of God Haiti
PS … here is a link to a recent video that was made for Heart of God Ministries International . I hope you enjoy it.