Dear friends,
While the world celebrates the New Year, Heart of God Haiti is dealing with painful news received from our team in Haiti on Wednesday. We are very saddened to inform you that Dr. Johnny, Pastor Dicksent's close and dear friend who also served as the physician in charge of both the staff and the children at Helping For Christ Victory Center, has died.
Although the details are sketchy, we understand that he was going to his hometown during the holidays to visit his two children, Claudy (14) and Tamarra (11). The children live with their mother who is in Acapulco completing her studies and were visiting their family in Haiti over the holidays. As Dr. Johnny was traveling with a colleague in Saint Marc, he was apparently ambushed, robbed and shot 3 times and left for dead…his colleague was also killed. It will be impossible to know anything more due to the inadequate legal processes in Haiti.
Dicksent was contacted by Dr. Johnny's uncle; he was requested to identify the body. Once it was confirmed that it was indeed Dr. Johnny, he had the job of informing his mother and family.
We spoke at length with Pastor Dicksent last night via Skype; these are his exact words: "I am in shock now, I am the one that was more close with him, he saved my life when I had the accident, he was there at DR when I had the intervention (heart surgery). He was there to recomfort me when I had the problem at the Ministere on November the 14th, he was the one who empty his bank account to help mission. How could I have the Heart to stay calm?" As you can imagine, he is very distraught especially since Dr. Johnny was a key team member, though mostly in the background, helping us through the myriad of challenges associated with the orphanage.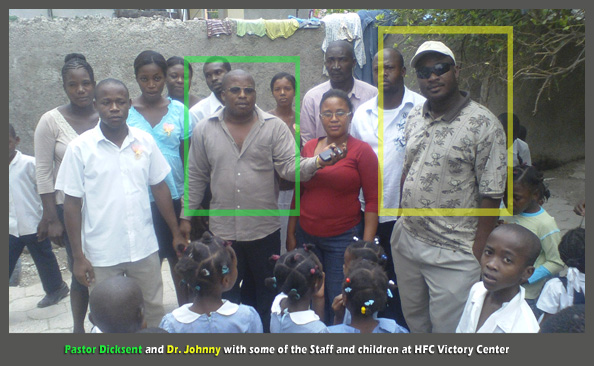 As you may remember from my last email, we are nearing the end of the official certification process to become a government-recognized orphanage. Dr. Johnny invested 100% of his life savings to help make these efforts a success – it was his dream to see our orphanage grow to become a model for other ministries throughout Haiti. Dicksent is determined that the work to complete the process will continue as a tribute to his dear friend's life.
We have just wired the funds for the funeral to insure that Dr. Johnny receives a proper burial and the family is not burdened with raising funds for his final expenses during this time of grief and pain.
Our hearts are broken! I grew to love and respect Dr. Johnny and his heart for Dicksent and the children. It's never easy to lose a long-time friend and colleague who shares your passion for God, for children and for your mission. We have included a few additional photos at the end of this post.
Scott Ingram, HGIM's Minister of Evangelism, and I will be traveling to Haiti later this month; Scott will be staying at the compound for about 5 months. As always, God's timing is perfect as Scott will be there to offer spiritual, emotional and administrative assistance during this time of transition.
We have a lot of work ahead of us to fill the gap left by this wonderful man. Please pray with us and for us during this difficult time as we find comfort in the Word of God:
He gives strength to the weary and increases the power of the weak.
Even youths grow tired and weary, and young men stumble and fall;
but those who hope in the LORD will renew their strength.
They will soar on wings like eagles; they will run and not grow weary,
they will walk and not be faint.  (Isa 40:29-31 NIV)
Thank you for your prayers and your constant encouragement. The last thing Dr. Johnny said to me via email will help us through our grief as we continue the tasks at hand:  "Let's work together in the way that God had chosen us to follow."
We will keep you up to date in the weeks ahead as the work Dr. Johnny poured his life into is completed and God is glorified by the combined efforts of our team in Haiti and YOU!
God bless,

David Young
Executive Director
Heart of God Haiti
Note:  If you have not done so yet, please take a few moments to listen to the Heart of God Haiti podcast of an interview conducted by Bill Heid, Solutions From Science, on Off The Grid Radio. We have included a link HERE for your convenience.